Keeping heating costs down and the temperature up is the ideal scenario when it comes to heating your home. That's why it's important to keep your boiler in top condition, to make sure it's consuming oil efficiently. Skipping simple, regular maintenance checks could lead to expensive repairs in the long run, or even a boiler replacement. That's why regular maintenance can not only save you money long term, but it will also help give you peace of mind in the colder months.

Follow our useful guide to take better care of your boiler.
Regularly maintain your boiler throughout the year to avoid any unexpected problems when you need your boiler the most. To keep your boiler working at its best, there are a number of things you can do to prevent breakdowns, maximise its lifespan, and keep your bills low. These include:
1. Get an annual boiler service
When it comes to boiler care, a bit of TLC goes a long way. So, ensure your boiler is professionally serviced every year to improve its lifespan and efficiency. Boiler services must be carried out by an OFTEC-registered engineer who can complete a full inspection and identify any potential issues. This process can give you an idea of what condition your boiler is in and prevent any small problems from becoming bigger ones.

2. Check your boiler pressure
In order to ensure hot water is evenly distributed throughout your home, it's important to check the pressure of your boiler. You should check the pressure gauge and see if it is working in accordance with the manufacturer's user instructions. If the pressure bar is too low or too high, it could lead to further damage.

3. Bleed your radiators
If your room isn't warming up as you'd normally expect it to, it might be because your radiators need bleeding. Over time air can become trapped in radiators which can lead to cold patches and poor heat flow. When you 'bleed' a radiator, you release this trapped air and enable them to run at their optimum level.

4. Ensure your boiler is well ventilated
Ventilation is key to ensuring your boiler is in good working order. If your boiler is housed in a cupboard then you should keep a minimum gap of 700mm between the boiler and any obstructions. It is important that your boiler has space to 'breathe', so try to make sure that any coats, towels or other items in your boiler cupboard are kept away from the boiler.

5. Check for any drips from the external pipe
If you find any drips or leaks coming from the external pipe, also known as the overflow pipe, then it's a sure sign that your boiler is not operating as intended. In this instance, you may need an engineer to step in and fix the issue for you.

6. Lag your pipes
As the temperature starts to plummet, lagging your pipes can help keep them insulated. 'Lagging' simply means wrapping your pipes in insulation, such as foam tubes, to prevent them from freezing over in the winter months. Whilst this might seem like a basic technique, lagging your pipes can help to prevent any major issues further down the line.

7. Check the boiler flame is blue
Your boiler should burn with a strong blue flame. If the flame is orange or yellow, contact an engineer immediately as there could be a carbon monoxide leak in your home. A carbon monoxide alarm may help to provide peace of mind, as this will alert you if a leak is detected, enabling you to fix the problem quickly.
Common boiler faults and causes
Sometimes, it can be tricky to get the right care for your boiler if you're unsure of what is causing the problem. So, use the chart below to identify which faults can cause common problems with your boiler and how to fix them.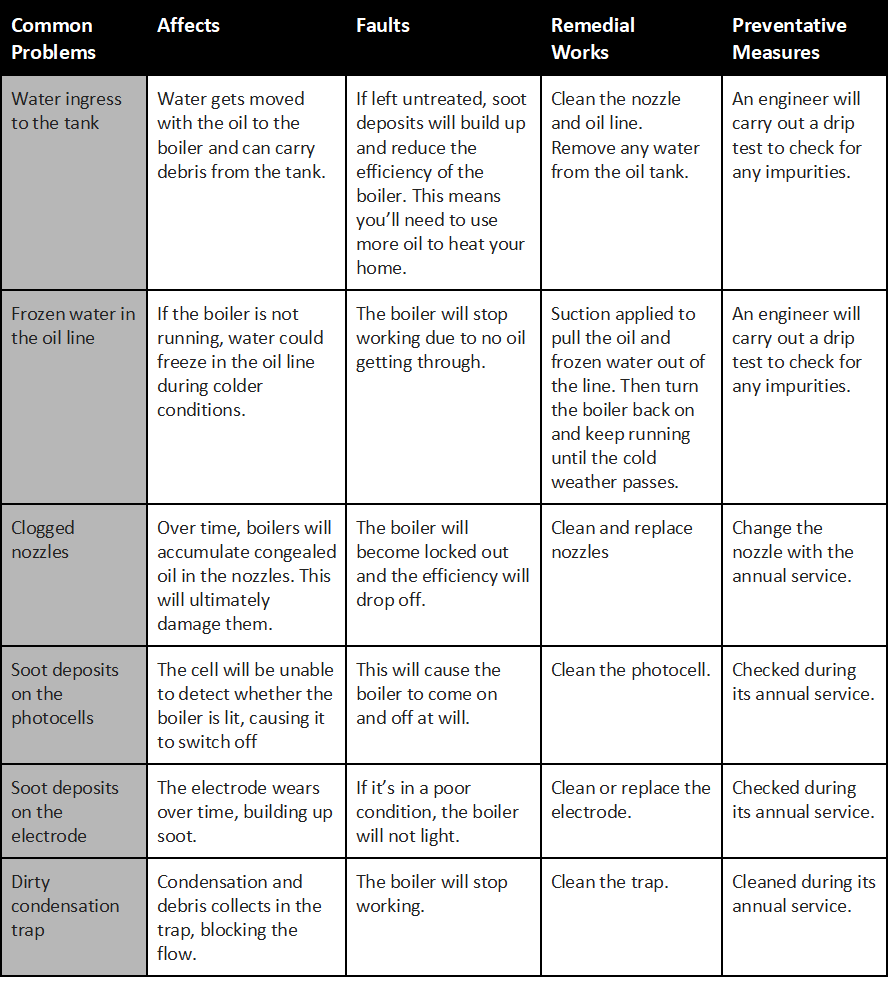 Whether you're looking to fill up on heating oil or to give your boiler some TLC, you can trust that you're in safe hands with Humphrey's Oil. We've introduced a number of new safety measures during the current pandemic to help keep both our customers and staff protected. From drivers and engineers wearing PPE to social distancing in our service centres, our coronavirus measures will ensure that you don't miss out on the oil you need.
Find out more about our coronavirus safety measures in our company statement here.
How Humphrey's Oil can help
If you need a boiler service or have an emergency breakdown, Humphrey's Oil Heating Services is here to give you a hand. We have a network of OFTEC-registered engineers across the UK, meaning we can offer a speedy, reliable and local service no matter where you are. Thanks to our boiler care packages, you can also keep costs down.
We offer the following plans:
Boiler Shield
● Boiler – £120 (£13/month)
● Cooker single – £136 (£14/month)
● Cooker double – £166 (£17/month)
● Commissioning – £116
Boiler Shield Plus
● Boiler – £319 (£27/month)
● Cooker single – £319 (£27/month)
● Cooker double – £519 (£44/month)
In addition to boiler care servicing, we also provide heating oil for your home.
If you have a central heating system or boiler in your home, heating oil is used to fuel it. It's a liquid by-product of crude oil and shares many similarities with diesel, although there is some variation in the chemical composition. Heating oil is stored in a heating oil tank on your property, instead of pulling fuel from the national grid.
There are only a handful of heating oil types available, with the main type being kerosene. Also known as home heating oil or 28-second oil, this is a lighter type of oil which is used in a domestic setting in many homes throughout the UK.
For more information on how Humphrey's Oil can help, visit our boiler care page or speak to our specialists on 03457 620 620 today!